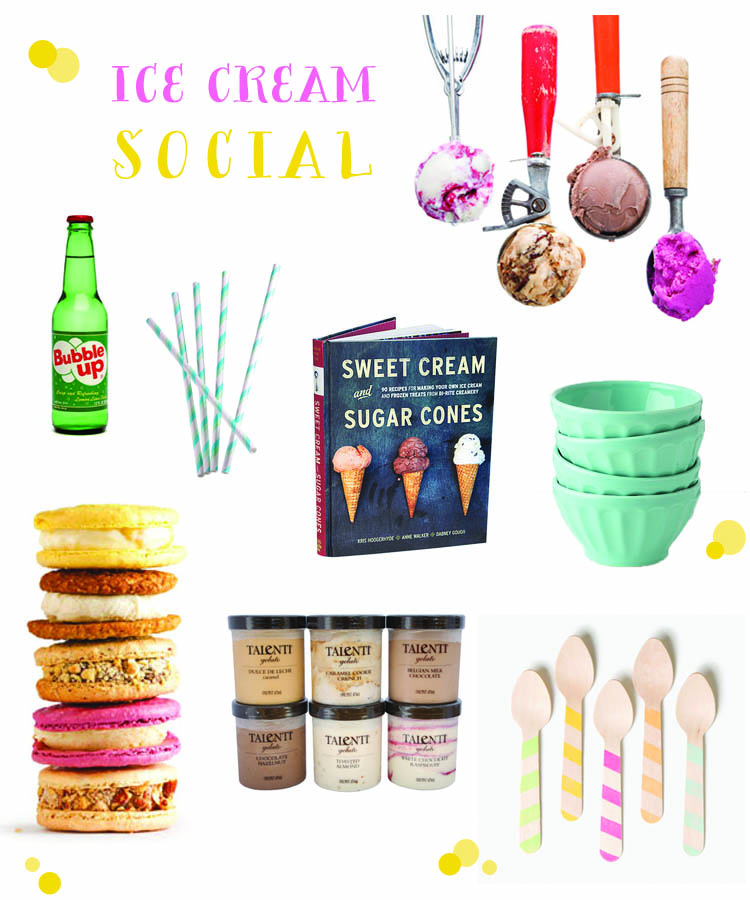 It's the time of year where I start to dream of frozen drinks, swimming pools and lemonade stands. It's also the time of year where I officially welcome ice cream back into my regular diet.
(who am I kidding, I eat the delicious treat year round)
So with this sunny-day-dreaming inspiration, an ice cream social was formed.
:: ideas ::
Build-your-own sundae bar and supply all the essentials- chocolate sauce, caramel, sprinkles, nuts, mixed berries, candy pieces- And make sure to get a variety of yummy ice cream flavors, like Talenti.
(side note- if you haven't tried this amazing gelato, please drop everything and run to the store.)


Bake your favorite cookies and make your own ice cream sandwiches. Once you fill the cookies with ice cream, roll the sides around in your favorite topping. I assure you this will be a crowd favorite!


Provide old fashioned soda pop with fun and quirky straws, but please, promise me that you'll use the straws. we want this party to be fun, do we not?


Lastly, keep the party going all the way down to the serving pieces. Try these mini latte bowls from Anthropologie and pair it with the cutest wooden spoons from Sucre.


And if, after you read this, you are left wanting more, check out Sweet Cream and Sugar Cones for great recipes and inspiration.
Move over ice cream truck, there's a new party in town. Cheers to the perfect, backyard soiree.
:: i scream. you scream. we all scream for ice cream ::